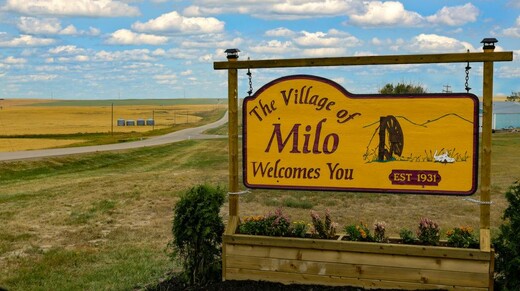 In 1907, Ontario born man Milo Munroe homesteaded north of Vulcan and opened a post office in his farmhouse the following year. Despite his brief tenure as postmaster, this railway village retains Munroe's first name.
The Canadian Pacific Railway bypassed the original Milo settlement when it arrived in 1924, and the railway company laid out the present village at that time. Milo was incorporated in 1931.
Milo is a clean, close-knit farming community of approximately 115, Lake McGregor and easily accessed from highway 542 from the west and Highway 1 via Highway 542 from the north.
Filled with people who embrace rural traditions and appreciate the heritage of the land. Milo is an exceptional place to call home. The community actively supports every event that takes place, with the young and experienced alike taking part in everything from school productions to Christmas celebrations to summer parades and community sporting events. It's no secret that Milo citizens have genuine love for their community, and it shows at every event that is held throughout the year. Paved streets, upgraded water and sewage systems, including new aw water reservoirs and a state of the art treatment plant, and a new residential subdivision are also central to Milo's appeal.
Despite its diminutive nature, Milo has all of the amenities one should expect in a place they would call home. Several key businesses serve the community including a bank, post office, grocery store, restaurant, hotel/pub, hairdresser, mechanic service, and card lock fuel station. There is a Lutheran Church which welcomes all denominations to worship, a beautiful Community Hall which hosts dozens of events year round, a community/seniors drop-in center, a natural ice arena with two adjacent ball diamonds, a newly renovated curling rink and lounge, and the local library which recently relocated to a new spacious home on Center Street. The community also has easy access to high speed wireless internet service.
The Milo Community School serves a grade 1-9 program, with a privately run Kindergarten also located in their building, and  holds several Adult Learning classes annually. The school has a newly built playground, and for the young and old alike Lions Park offers a grassed and well-treed playground and picnic area as well as a sand volleyball court all of which are maintained by the Milo Lions Club.
Skating, curling, baseball, soccer, indoor and outdoor volleyball, and a variety of water sports are only a few of the local recreational activities the Village has to offer. One of Milo's biggest achievements is the 2.5km Walking/Biking path which winds its way through town and then takes you on a journey out to the middle of the countryside and down to the Lake McGregor Dam. It is a pleasant walk through the tall native grasses down to the lakeside, where you can watch the boaters and fisherman pass their time casting line and making waves in the warm waters of Lake McGregor.
The Mile and District Fire Association and a volunteer brigade of nearly 30 firefighters keep the area safe from fire and also provide essential emergency care with their highly qualified 7 person emergency first response team. The Fire Association boasts a newer water pump truck, a brand new stat of the art compressed air foam truck, and a rescue vehicle ready to handle and type of emergency situation. The Vulcan RCMP detachment serves and protects in this community and responds to any suspicious activity, which is seldom at best.
For residents and tourists alike, there are many local attractions and historic sites to provide an exciting holiday, weekend getaway or hours of exploring. Beautiful Lake McGregor, a 35km long lake with a campground and boat launch at the northern end, averages 9000 visitors annually and hosts an annual summer fishing derby sponsored by High River Fish and Game Association. The Village of Milo runs a fully serviced RV Campground for those campers looking for a gentler camping experience than the lake campground. A scenic drive approximately 40km northeast of Milo through the rolling prairie land and by acres of oil wells will bring you to the Crowfoot Ferry. One of only 6 ferries left in Alberta, the unique and scenic ride over the Bow River will make your mileage that much shorter to other tourist destinations such as Drumheller, Bassano, and Brooks. To the east of Milo, historic sites such as Coffin Handle Butte, the Majorville Medicine Wheel, and many remnants of tipi rings can be found. A short 15 minute trip north of Milo to the Hidden Valley Resort in the Siksika Nation finds a beautiful 9-hole golf course which accepts public reservations and just a bit further north is the newly completed Blackfoot Crossing Historical Park offering an interesting study of aboriginal and Siksika Nation history.
A progressive community in the midst of realizing its potential, the proud and friendly Village of Milo has something for everyone and hopes to welcome you soon!